North Korea's leader, Kim Jong-un, personally oversaw the successful test of a hypersonic missile on Wednesday, state media announced, the nuclear-armed nation's second such launch in less than a week.
The launch on Tuesday caused certain planes on the US west coast to be temporarily halted, according to the Federal Aviation Administration, and was more advanced in nature than a hypersonic missile test last week, according to South Korean military chiefs.
What's the big deal about North Korea's hypersonic missiles?
For a variety of reasons, hypersonic glide missiles are deadly. Hypersonic weapons may fly laterally, near to the earth's surface, and attack a target in a far shorter flight time than ballistic missiles, which travel in a mostly predictable parabola, leaving them vulnerable to interception.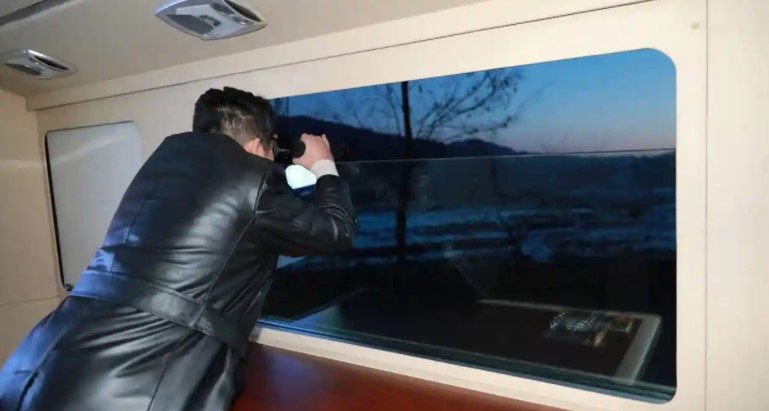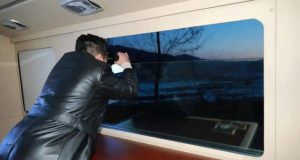 Hypersonic weapons may also travel at speeds of up to 6,200 km/h, or five times the speed of sound (3,850mph). All of these characteristics make them more difficult to track and intercept.
These hypersonic missiles are especially concerning, according to the BBC's Security Correspondent Frank Gardner, because they leave governments guessing whether they are carrying a conventional high explosive warhead or a nuclear warhead.
North Korea has joined a limited group of countries working to build hypersonic missiles, including the United States and China.
Hypersonic missiles can go longer without being detected by radar than ballistic missiles.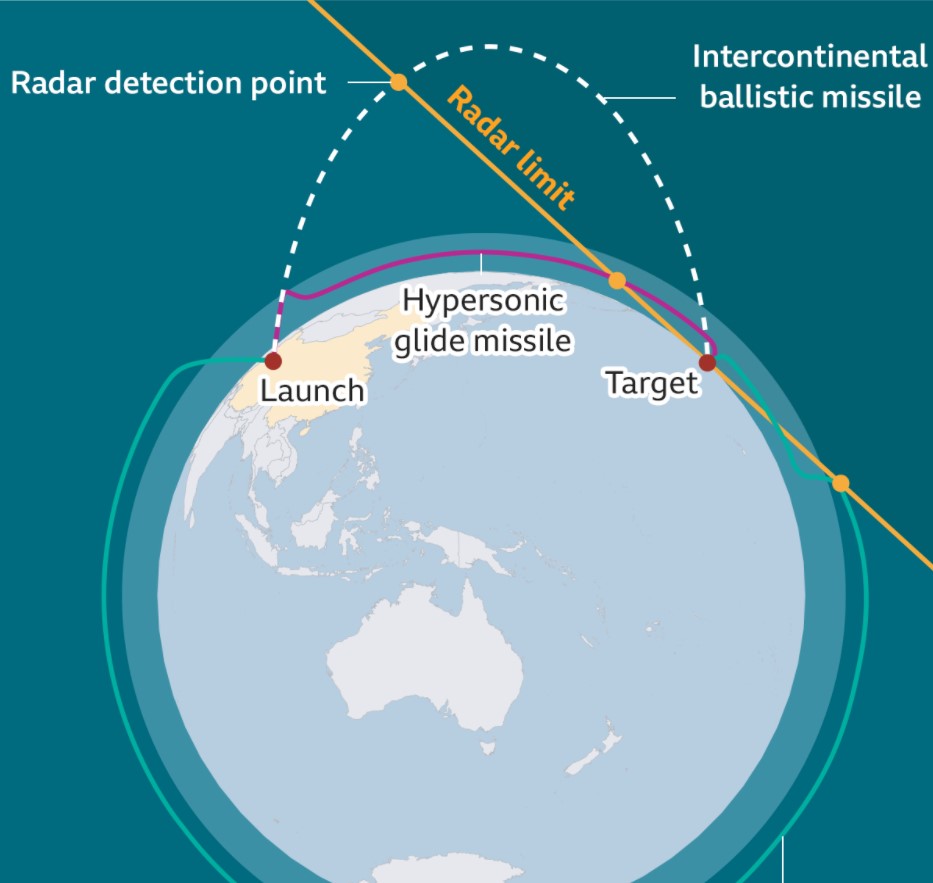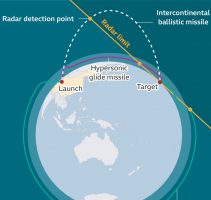 Mr Kim asked for the country's "strategic military muscle to be strengthened both in quality and quantity" during the on-site inspection, according to Yonhap, a South Korean news outlet.
It's the first time he's been known to attend a missile launch since March 2020, and observers say the publicity surrounding his visit will be crucial.
"While [Mr] Kim may have unofficially attended other tests in the interval," Chad O'Carroll, chief executive of the Korea Risk Group, which monitors North Korea, told Reuters, "this presence and its Page One feature on [North Korean daily] Rodong Sinmun is crucial."
"It implies that [Mr] Kim is unconcerned about being personally involved with big new technology tests. And doesn't give a damn what the US thinks."
The US and UN have issued repeated warnings and imposed sanctions in an attempt to prevent North Korea's nuclear testing, but Kim Jong-un has so far defied them.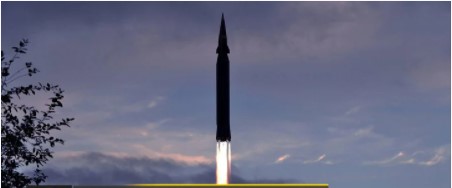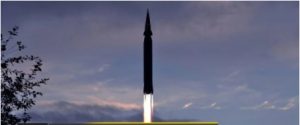 According to the official Korea Central News Agency (KCNA), a missile carrying a "hypersonic gliding vehicle" hit "the specified target in waters 1,000 kilometers away" on Tuesday.
Kim was photographed wearing a long black leather coat and using binoculars to observe the rocket from his mobile viewing platform, according to photos uploaded on the website of Rodong Sinmun, the ruling Workers' Party's official newspaper.
Kim Jong-ten-year un's journey from "tempestuous" toddler to "little rocket man"
"The hypersonic glide vehicle's excellent maneuverability was more starkly validated by the final test-fire," according to the KCNA report.
"Kim Jong-attendance un's at the missile test shows that the level of completion of the hypersonic missile has reached a satisfactory level," said Lim Eul-Chul, a professor of North Korean studies at Kyungnam University in Seoul.
Other photographs in Rodong Sinmun showed the rocket launching in a burst of fire and smoke from the land around dawn, with Kim studying charts with uniformed officials.
It's the third known North Korean test of a hypersonic glide missile, following one in September 2021 and another last week, as the regime seeks to expand its stockpile of advanced weapons.
The military of South Korea said the launch on Tuesday achieved hypersonic speeds and showed significant evidence of "improvement" from the previous week's test.
The hypersonic glide vehicle "performed glide jump fly from 600km area before making a 240km corkscrew," according to the KCNA report.
Hypersonic missiles travel at speeds of Mach 5 or greater and have the ability to maneuver in mid-flight, making them more difficult to track and intercept.
Russia, the United States, and China have all claimed to have successfully tested hypersonic glide vehicles, with Russia being regarded as the technology's current leader.
North Korea's military technology has advanced rapidly in the decade since Kim assumed control, despite international sanctions. In its five-year plan, hypersonic missiles were named as one of the "highest priority" projects for strategic weapons, and the first test – of the Hwasong-8 – was revealed in September of last year.
The test took place on Tuesday, as the United Nations Security Council gathered in New York to examine Pyongyang's nuclear and missile programs. The launch, said to US State Department spokesperson Ned Price, "violates several UN Security Council resolutions."
North Korea has declined to respond to the US calls for dialogue, prompting hypersonic testing.
Kim pledged to continue building up North Korea's defense capabilities at a critical meeting of the governing party last month, without naming the US.
The US-North Korean dialogue has stalled, and Pyongyang is subject to several international sanctions for its nuclear and ballistic missile programs.
The impoverished country has also been afflicted by a self-imposed coronavirus ban, which has wreaked havoc on its economy.
The hypersonic missile in the world:
Hypersonic — A hypersonic missile is five times faster than sound and achieves Mach-5 (3,800 mph). There is currently no operational defense system capable of preventing the use of these strategic weapons. As a result, numerous countries throughout the world, including the United States, Russia, India, Iran, North Korea, and China, are developing hypersonic missiles.
List of Countries with Hypersonic Missiles:
USA
Russia
China
India
Iran
North Korea
According to CNBC, Australia, Japan, and France are also interested in developing this technology.
Visit for more best articles